By Thomas Williams 2210 Squadron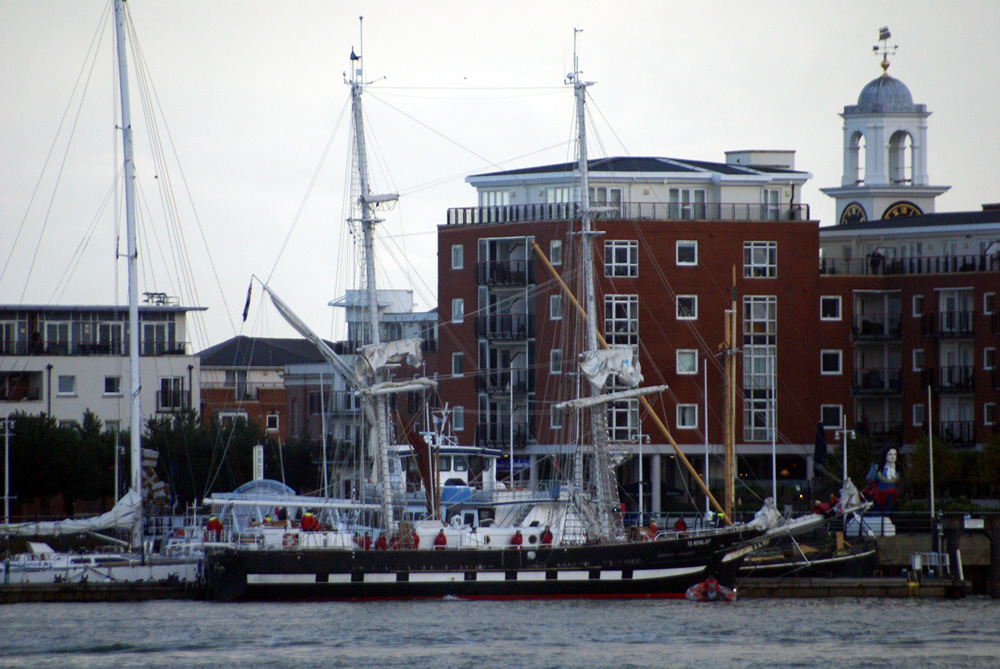 I arrived on a cold damp Friday afternoon. I climbed aboard with my waterproof rucksack in one hand and my TG21 and 3822 in the other.
I was there on my own and knew none of the staff or any of the other cadets on board.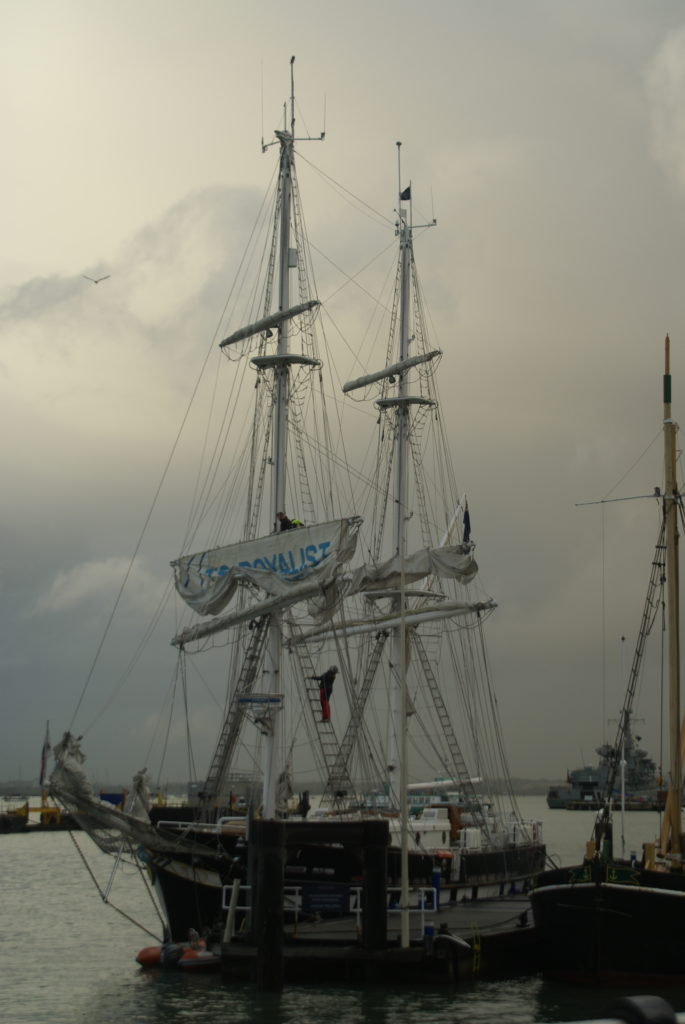 As I was shown to the sleeping quarters below deck to dump my stuff, I was beginning to wonder what had I let myself in for? A week on a Tall Ship, bobbing about in the Solent giving me jelly legs and not having any friends……..
Hmmmm – what was I thinking when I signed up for this!?! Those thoughts lasted about 5 minutes until I met Frankie. We soon got chatting and he told me all about L98 shooting, which I'm really interested in – so definitely off to a good start! After settling in, I began speaking to a few of the others including Ashley and Megan. It turned out Megan was on the same squadron as another cadet I had met on my cadet skiing trip earlier in the year.
The rest of the evening was all about learning about the ship, some safety things and what to do and how it worked.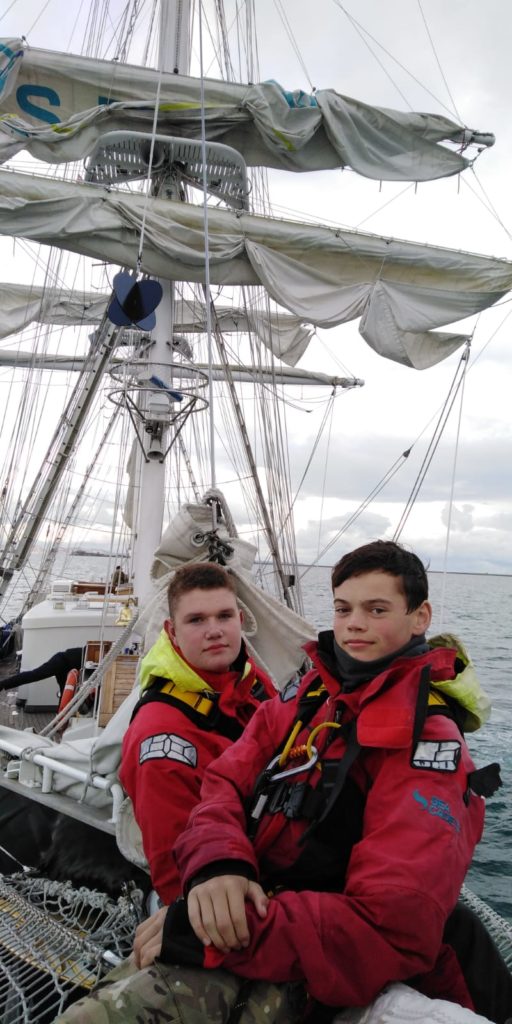 This picture is of me and another new friend called Tom, same name as me—obviously best name in the world.
Tom was incredibly tall (something like 6'5") and he could reach everything!
Soon it was down to business. So there we were….now sailors!
On another day (I don't remember which one, they all seem the same when you get to my age) we began climbing the rigging. I remember standing at the bottom looking up into the sky wondering how tall they were. Like me, Megan quite enjoyed climbing and so we talked about all of the cool stuff we had done.
I remember we kept asking the staff if we could go all the way up to the top, which of course we eventually did.
As we were standing at the bottom looking up excited to get up, the others behind us were talking about some really bad thing that happened when someone went up without being clipped in. (Megan had already gone up at this point). So there I was at the bottom absolutely bricking myself when the staff says "next up please". So I climbed up to the first platform still scared even though we had done that part before earlier on in the week. Then I stood at the bottom of the next ladder up I grabbed on to the metal wires to pull myself up and as I reached the next platform it began to shake so I froze thinking is this the end….
There was only one way out of this, so I climbed to the top and it was actually quite fun!
Let's talk food—I like food, so I was slightly concerned that it wouldn't be very good and that I might get hungry.
However, it was actually quite good and one of my particular favourites was the steak and kidney pie with chips (oh and I got two portions because I was nice to the chef!)
I also really enjoyed one of the lunches that was some kind of fish sandwich with BBQ sauce.
So at least I wasn't going to starve for the week as the food was good.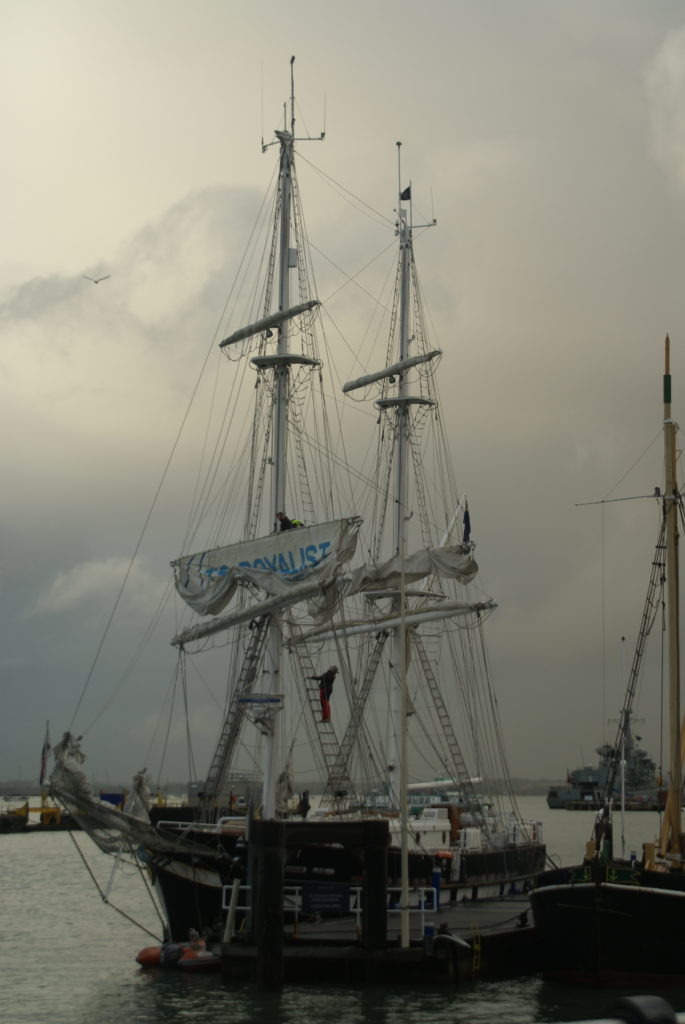 The Drills were quite fun and I particularly enjoyed the Man Overboard Drill because I got to throw the dummy overboard. I had the legs on my shoulder and my friend had the head and we lifted it up over the side and threw it as far as we could!
After a long hard days work of drills and effort we also had some shore leave where we went to watch some fireworks and bought more unnecessary drinks and snacks!
I would definitely recommend for anyone to try out this trip if you are given the opportunity!